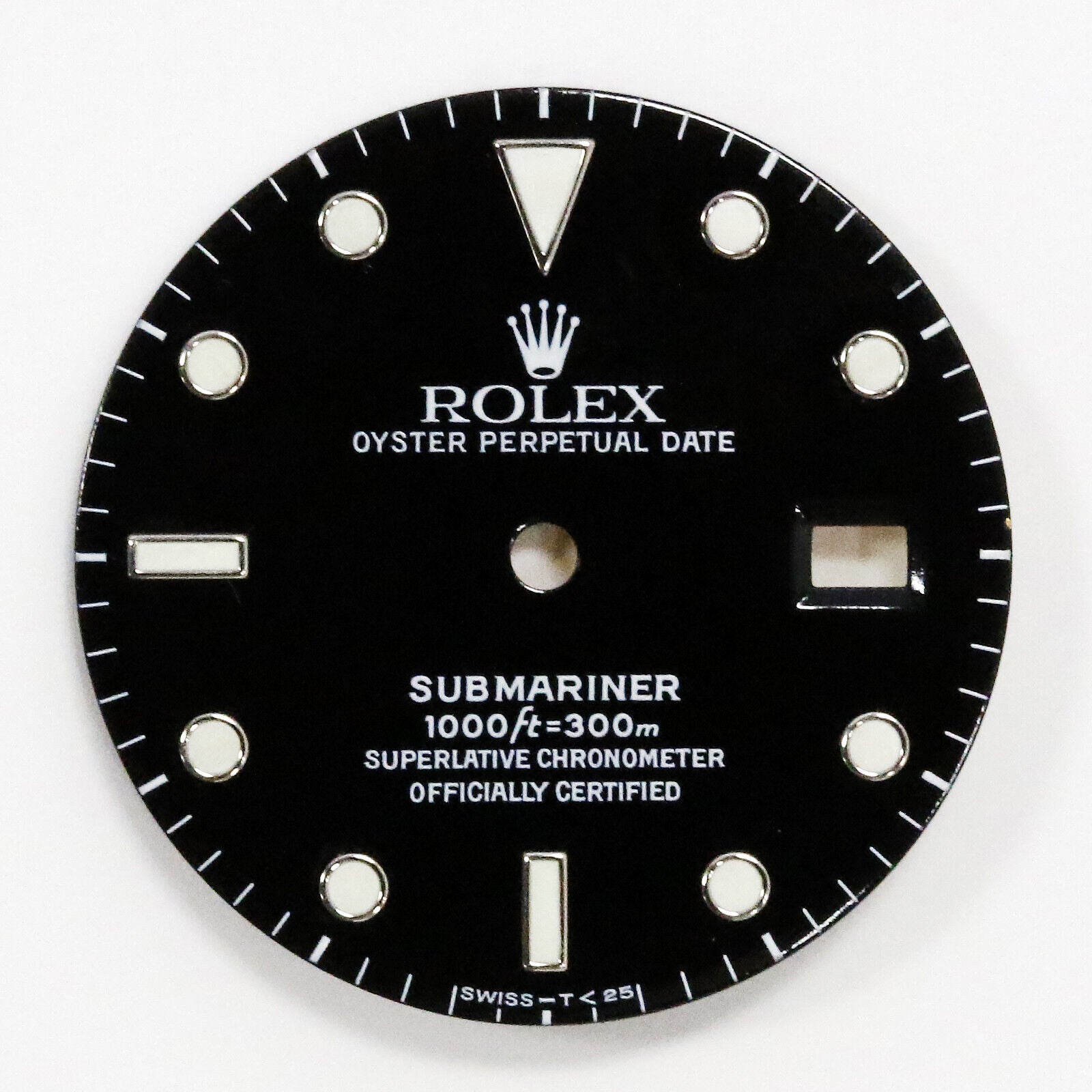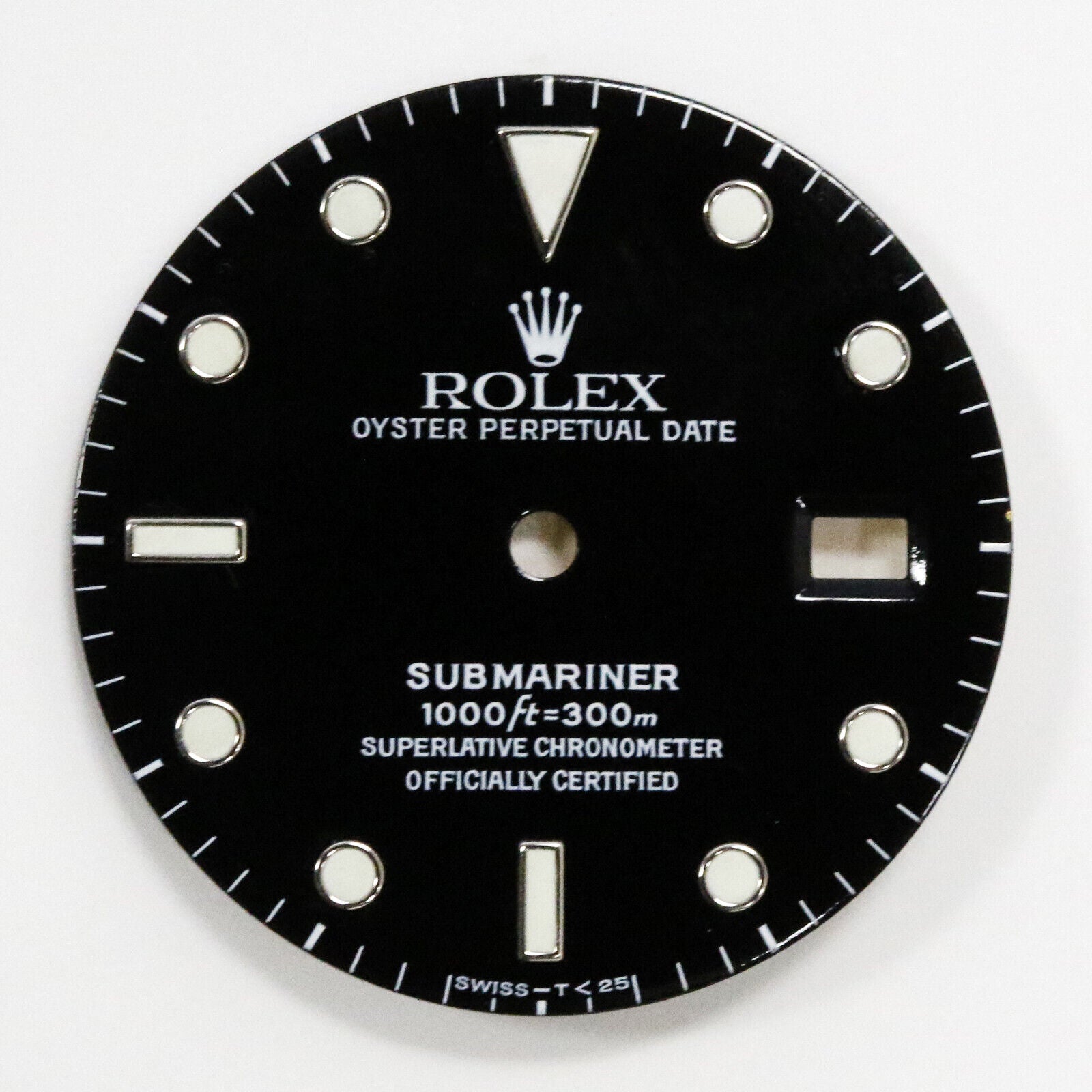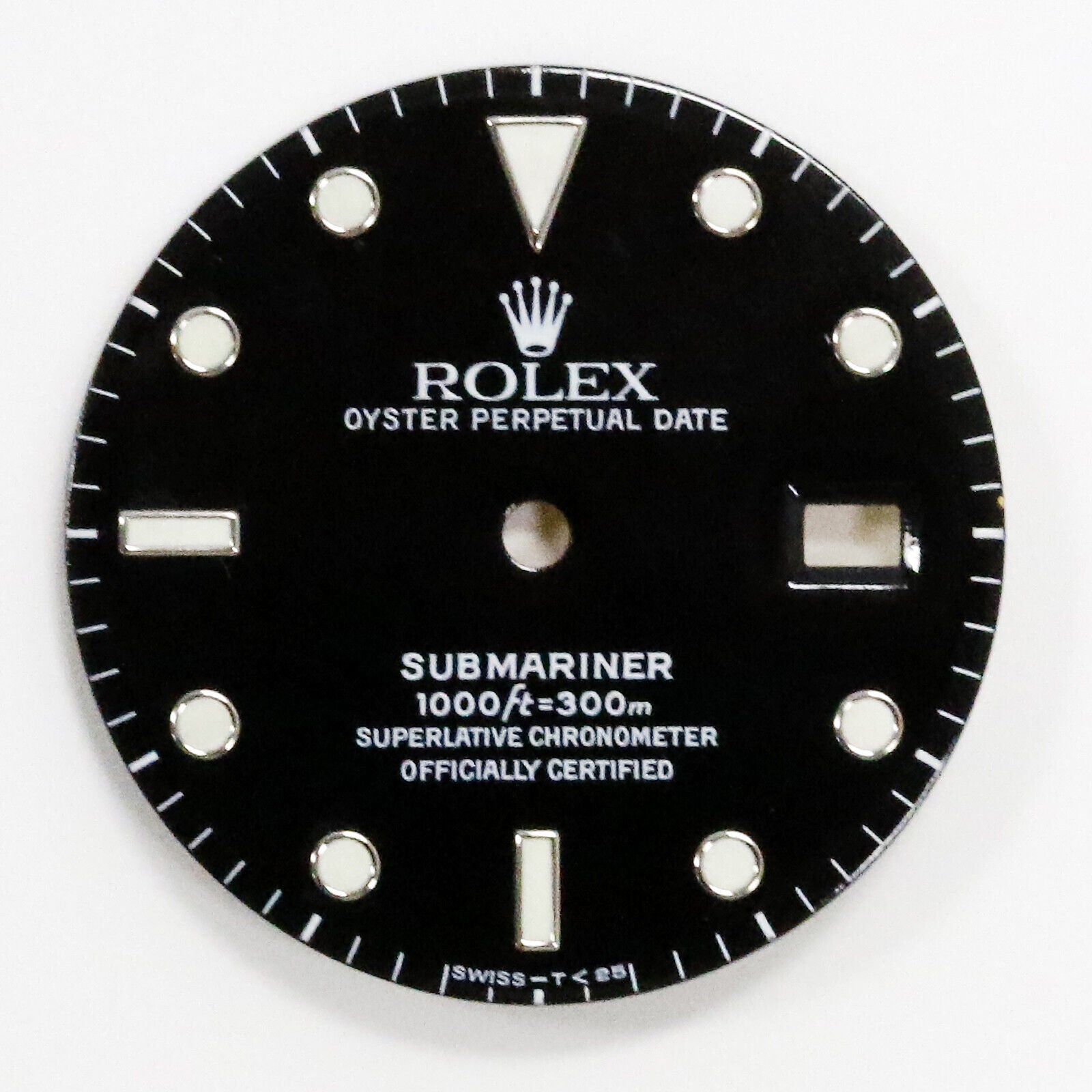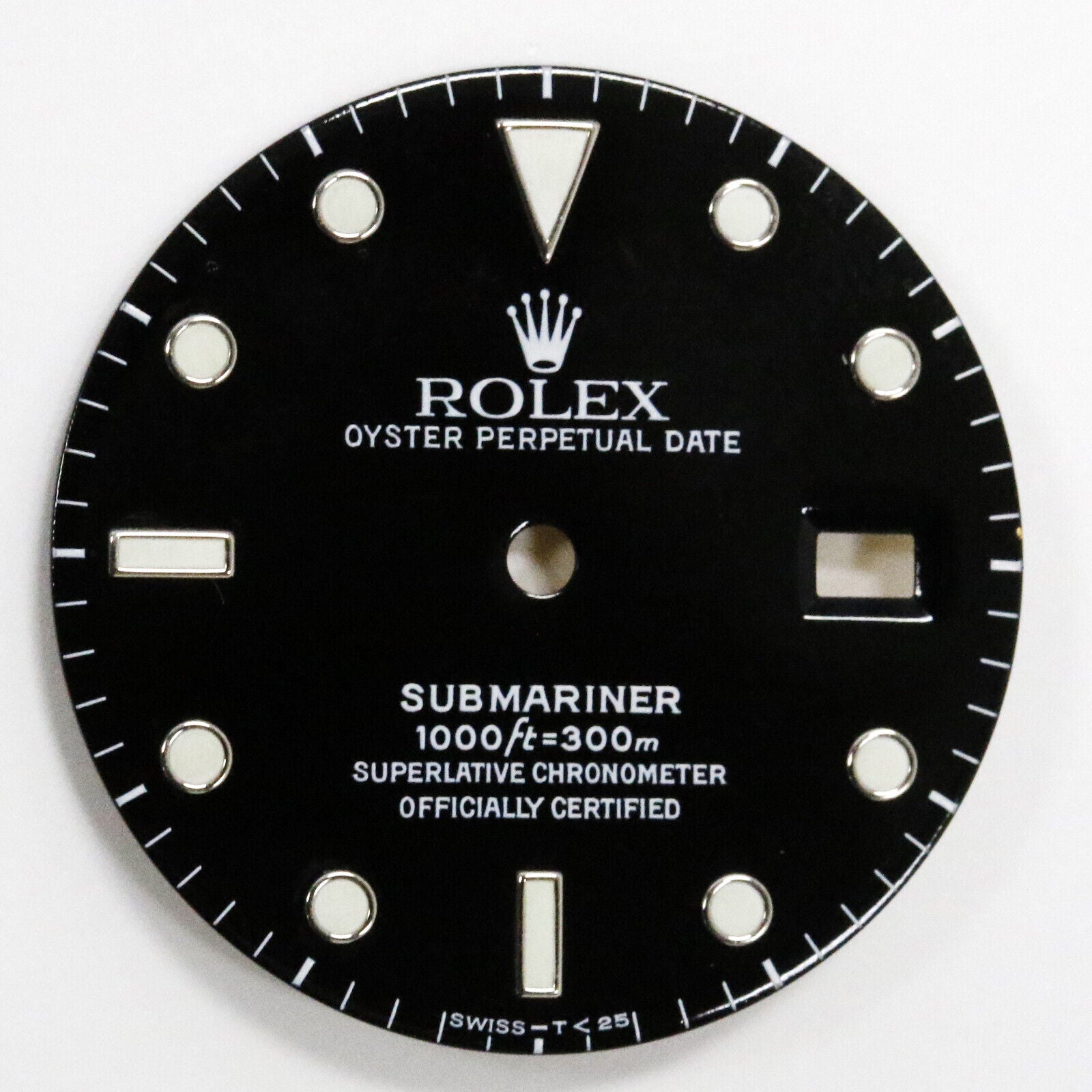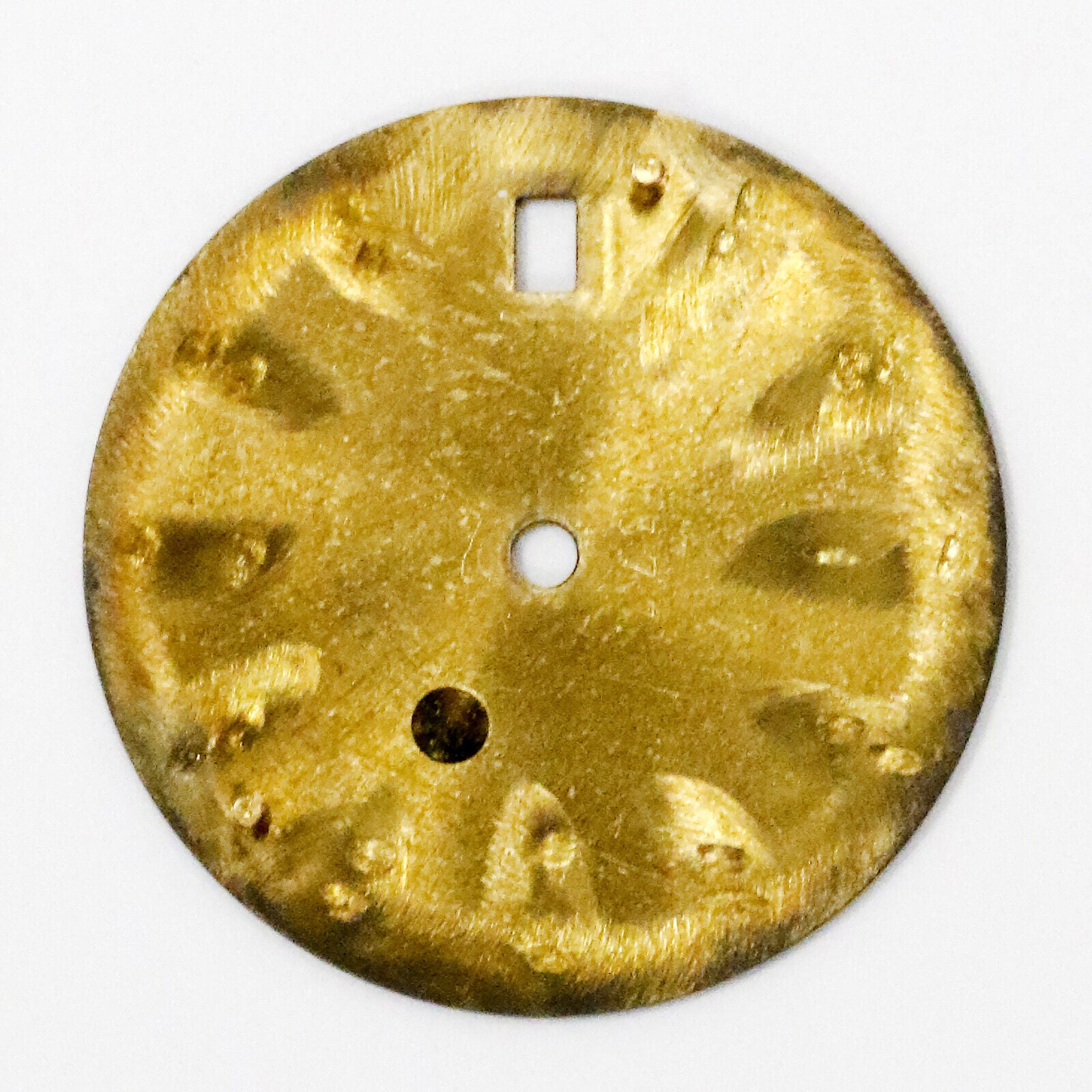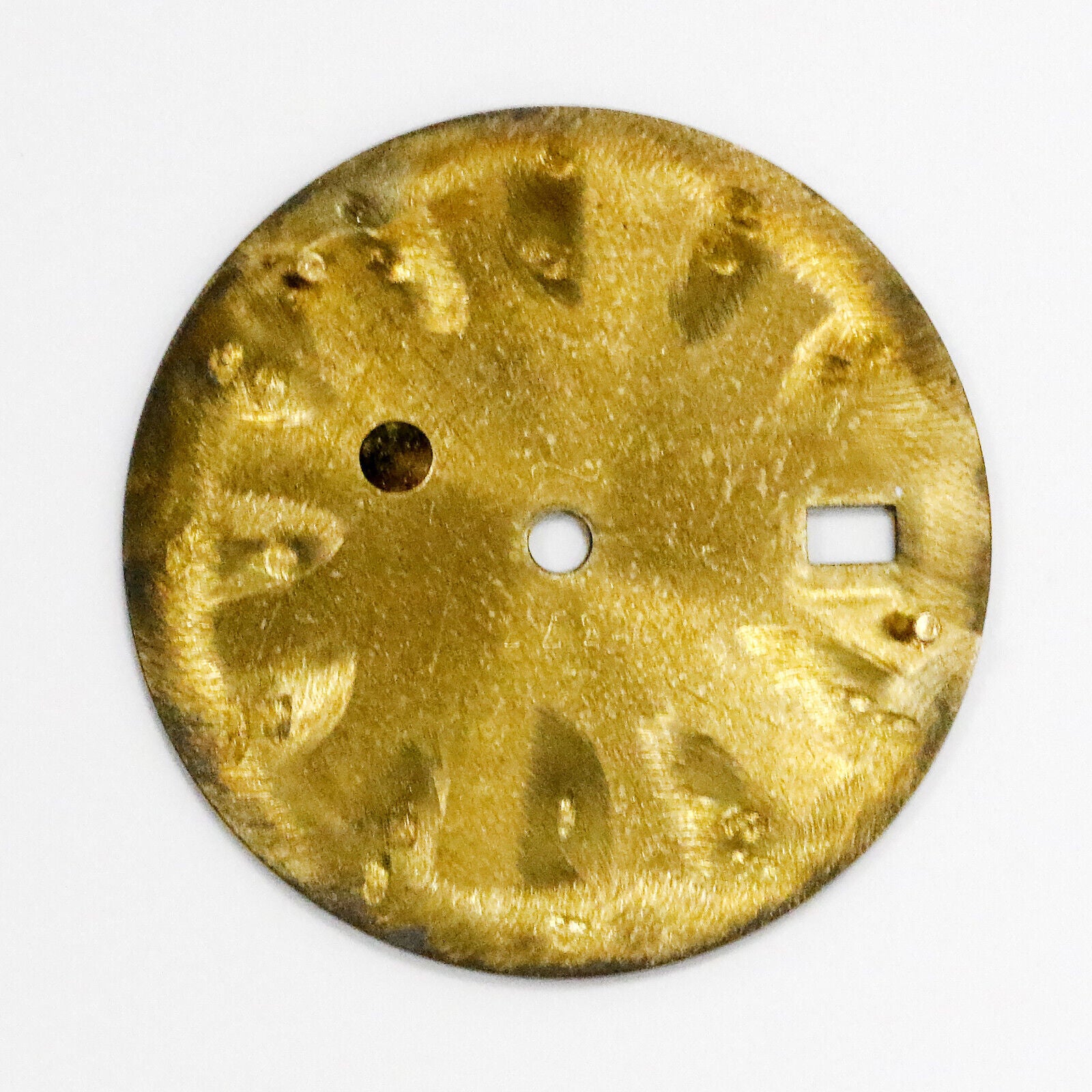 This listing is for a Genuine Rolex Submariner Stainless Steel Watch Dial 16800, 16610 Black with Circle, Rectangle, and Triangle Markers.

It will fit a men's 40mm Rolex Submariner 40mm with the following model numbers: 16800, 16803, 16808, 16613, 16610, 16610LV.
Guaranteed to fit your 40mm Rolex Submariner watch

It will not fit 26mm, 36mm or 41mm Rolex. 


Code : S1
Brand : Rolex
Watch Caliber : 3035 and 3135
Model : Submariner with Date 40mm
Color : Black " SWISS-T<25 "
Markers : Gold Round and Rectangle Luminous Hour Markers with Dash Tracks
Dial Diameter : 27.28mm
Feet Location : 2:30 and 7:30

Condition : B

CONDITION GRADE

A - This Dial is 100% eye clean. It has very minor hard to see scratch. Over all condition is +90%
B - This Dial is 90% eye clean with very minor scratches seen by eyes. Over all condition is 80%.
C - This Dial is 80% eye clean with minor scratches seen by eyes. Over all condition is 70%.
D - This Dial is 70% eye clean with some scratches that can been see with eyes. Over all condition is 60%.
E - This dial has scratches and marking on it which can be seen. Over all condition is 50%.
PLEASE READ OUR DESCRIPTIONS AND SEE OUR PICTURES FOR EACH ITEM BEFORE PURCHASING AS EACH ITEM FITS A PARTICULAR MODEL AND THIS WILL HELP AVOID RETURN AND OR EXCHANGE.
If there are any issues with your purchase, please message us and we are certain we can solve it for you least amount of inconvenience to you.

DISCLAIMER


Lux Time Co. is an independent business that sells pre owned watches, watch parts, and watch accessories and is not affiliated with Rolex, USA or any other watch brand it sells. Rolex and the other brands are under no obligation to service watches sold by 3rd party dealers such as Lux Time co. The following Rolex models are all registered trademarks of the Rolex Corporation (Rolex USA, Rolex S.A.): Rolex Datejust, Rolex Day Date President, Submariner, residential, Explorer, Sea Dweller, Super President, GMT Master, GMT, Yacht Master, Prince, Milgaus, Master Piece, Air King, Cosmograph Daytona, and Pearl Master. All other brands are registered trademarks of the respective brands and are not affiliated with Lux Time co in any way.